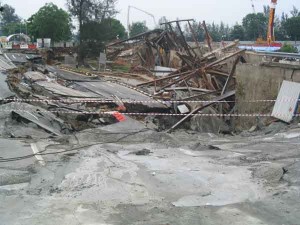 Ten years.
It is said that time heals all wounds, but that doesn't hold true for Madam Poa Beng Hong, the widow of Mr Heng Yeow Peow who died in 2004's Nicoll Highway collapse. She said last year: "It's like having a four-legged table and you suddenly lost one leg."
He was dubbed Hero Heng. He was at the bottom of the tunnel being built when the structure collapsed but instead of saving himself, he made sure his eight co-workers got to safety first. His body could not be recovered without endangering rescuers.
Catherine Tan, who lost her father, LTA inspector Mr Tan Lock Yong in the incident, paid her respects at his grave yesterday. Back then the aspiring actress had to endure storm after storm when she lost her grandmother shortly after the incident and her then fiance broke off the relationship.
Today, she and her Taiwanese-born husband live quietly, out of the limelight, in Singapore.