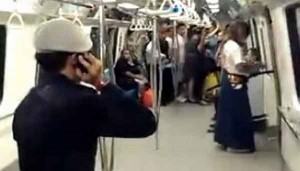 Police have confirmed that the man arrested for wielding a samurai sword in public is called Peter Chua.
On Monday, Mr Chua, who was dressed partly like a Japanese martial art exponent, took a samurai sword on board an MRT train before he was arrested at Victoria Street near Bugis station.
A search on Facebook found a user named Peter Chua who identified himself as a professional tattoo artist and a "head martial arts instructor of Japanese swordsmanship" at Iaido Club. He also shared a widely circulated photo of the man armed with a samurai sword on the MRT train, without saying he is the person in the picture. Other users, however, commented on the photo saying that they suspected the man was him.
Mr Chua is being probed under Section 7(1)(a) of the Corrosive and Explosive Substances and Offensive Weapons Act. If charged and convicted, he faces a jail term of up to five years and mandatory caning of at least six strokes.