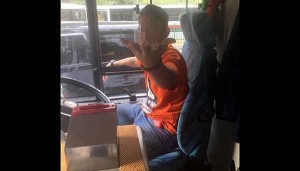 Wow, this this teenager is talented, maybe the bus company can hired him instead?
A teenager has been arrested on suspicion of making off with a 45-seater private bus and taking it on a six-hour joyride around Singapore that saw him tracked down and chased by its owners.
The 17-year-old got inside the vehicle while it was parked at a Woodlands industrial park and found the key in a box aboard the vehicle.
The youth, who is thought to have known the workings of the China-made Yutong model, started his 155km journey at about 9am on Sunday.
He made his way through areas including Yishun, Ang Mo Kio, Telok Kurau, East Coast Park, Toa Payoh, Choa Chu Kang, Bukit Batok, Boon Lay and Jurong East.
He was finally arrested at a bus stop in Bukit Batok Central.
Mr Francis Toh, operations manager of bus owner AZ Bus company, had been due to collect the bus at about 2pm to take workers from Little India to their dormitories in Woodlands.
After discovering it missing, he linked his cellphone to a GPS tracker installed on the bus two years ago. He discovered that the vehicle was travelling at 70kmh along roads in Tuas, and got into a nine-seater minibus to track it down.
"He was a rather safe driver," Mr Toh said in Mandarin.
"When he wanted to overtake other vehicles, he would indicate his intention using signal lights. He seemed confident and drove with only one hand on the steering wheel."
AZ Bus director Yeo Keng Sin, 66, who also followed the bus in his Toyota car, overtook it along Bukit Batok Central and brought it to a halt by cutting in front.
Mr Toh, who was following behind, prevented the bus from reversing by covering its rear.
With the bus stationary, both rushed on board. For 10 minutes, they struggled to hold on to the teen, who tried to escape through the rear door.
Police arrived shortly after and arrested him.
"I am surprised that there wasn't any accident even though he drove for six hours straight," said Mr Toh. "I am glad no one got hurt."
AZ Bus general manager Cynthia Yeo, 35, said the company made a loss of about $400 for that day.
Ms Yeo, who made a police report, said: "We are looking into improving our security measures and will be installing more cameras on our buses."
Police are investigating.