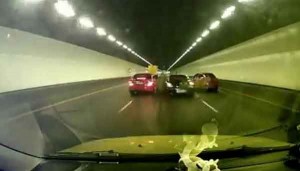 Two drivers who engaged in a bout of reckless racing along the Kallang-Paya Lebar Expressway (KPE) have been called up for investigations, the police said.
"Such behaviour poses a danger to all road users. Traffic Police has called up both drivers for investigations and appropriate actions will be taken in accordance with the law," the post read.
A red car is seen emerging from the left of the frame and cuts into the path of the car with the dashboard video recorder. Seconds later, a black car hurtles from the right and makes a dash for the same spot in the middle lane.
Such behaviour is really unacceptable at all. You are endangering other road user for sure. See that red car on the right where the black car overtake.
You can watch the video here: Singapore Street Racers in KPE