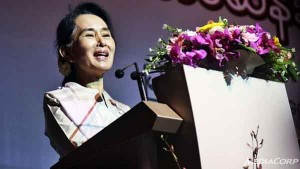 Myanmar's opposition leader Aung San Suu Kyi has encouraged overseas Myanmar citizens to return home to participate in the country's transformation. She said they should use the skills and knowledge they have gained abroad to help the people in Myanmar.
Suu Kyi was speaking to about 6,000 Myanmar nationals living and working in Singapore. She is on the third of her five-day visit to Singapore. Dance performances by some of Myanmar's ethnic groups and a video showcasing Suu Kyi's early years entertained the audience who packed the ballroom from as early as five in the morning on Sunday.
There were rapturous cheers and applause, with many whipping out their cameras to capture the moment when Suu Kyi made her appearance at the event. Addressing the crowd in Burmese, Suu Kyi said many Myanmar nationals enjoy living overseas. However, she called on the citizens to decide on how they can make a difference in Myanmar.
"Please take pro-active actions to create the conditions that you want to see in Myanmar. Don't just wait for the conditions to improve on their own," she said.
Suu Kyi also had a question and answer session for about half an hour where she fielded questions such as what policies does she have to help change the country and also how to further attract foreign direct investments into Myanmar.
The key, she said, is that Myanmar citizens need to change their mindsets in order to help bring about development in the country and also help to alleviate poverty in Myanmar.