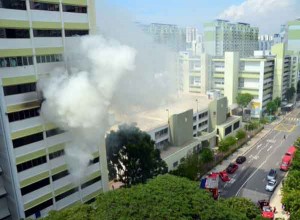 A visually impaired man was found dead after a fire broke out in his flat at Block 27, Marine Crescent.
The Singapore Civil Defence Force spokesman said that it was alerted at 9.30am and forced a way into the unit. The living room and two bedrooms were charred.
The fire was put out in 45 mins. Investigations on the cause of the fire are ongoing.
Emeritus Senior Minister Goh Chok Tong, who is a Member of Parliament for Marine Parade GRC, wrote on Facebook that he had visited the block. He was at the scene around noon with other grassroots leaders to assist residents affected by the fire.