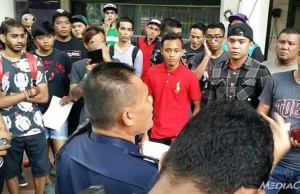 Seem like scams are getting more and more ways. Even job recruitment gets hit.
Police reports were made on Monday (May 19) after more than 50 people said they were cheated by a man who allegedly promised them part-time work at the upcoming SEA Games in Singapore.
Members of the group, aged between 16 and 45, said a man introduced them to "job opportunities" at the SEA Games, and claimed to be an assistant manager at RecruitFirst. The victims said they paid S$35 each for registration and apparel.
"We were told to gather at Clarke Quay Exit E to meet him. The person said there will be a team ushering us to a training centre which he mentioned as TCC recruitment agency," said Ms Nelly Riana, who was among the group.
The recruiter was uncontactable and when he did not turn up after three hours, they decided to make a police report.
TCC Group confirmed they did not know the alleged recruiter, nor have his details. The company also told Channel NewsAsia that it has made a police report in relation to the case. When contacted, RecruitFirst told Channel NewsAsia that the man in question is not their employee, and declined further comment.
Mr Zamin Putra, who was among those who lodged the police report, said he got to know the recruiter through Facebook. He added that the recruiter explained that the job involved assisting with laundry services at the SEA Games. Ms Riana also said that they had been promised S$900 to work at the SEA Games from Jun 5 to 11.
In response to media queries, the Singapore Southeast Asian Games Organising Committee (SINGSOC) said it was not recruiting any workers for laundry services or towel duties, as there are no such positions available.
Police said they received a call on Monday morning at 10.07am requesting assistance at 27 North Bridge Road, where TCC Group's office is located. Investigations are ongoing, police added.