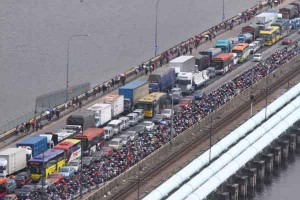 We think that both side need to really talk, give and take on both ends, people will suffer if this carry on.
The prospect of having to pay more than double what they are currently forking out to drive across the Causeway has jolted Singaporean motorists into saying they will drastically reduce the frequency of their trips up north.
Although the RM20 (S$7.55) Vehicle Entry Permit (VEP) fee that Malaysia plans to charge for foreign-registered vehicles entering the country from around the middle of next year is less than half the RM50 figure bandied about previously, drivers say cost savings from shopping in Malaysia – already slashed as a result of toll hikes imposed by both countries since Oct 1– will be negligible with the latest VEP charge.
Malaysian daily New Straits Times, quoting the country's Deputy Transport Minister Abdul Aziz Kaprawi, reported last Saturday (Dec 20) that the details of the VEP fee implementation for foreign vehicles, including the installation of charging devices, are being worked out. Once completed, the fee will be levied at the Causeway and the Second Link, said the minister, adding that Malaysia is also mulling over the implementation of the fee for vehicles entering from Thailand and Brunei.
The charges for Singaporean drivers crossing the Causeway recently increased by more than five times from RM2.90 to RM16.50, after higher toll rates kicked in on Aug 1 at the Johor Baru Customs, Immigration and Quarantine Complex.
Two months later, Singapore raised the toll charges at the Woodlands Checkpoint to S$6.50.
With the new VEP fee imposed by Malaysia, Singaporean drivers would have to pay more than S$20 for a round trip to Johor.
Freelance videographer Edwin Cheng, 32, who drives to Johor at least once a week to buy groceries and pump petrol, said he was shocked and disappointed by the third round of hikes.
"I used to be able to save up to 40 per cent for a full tank of petrol and up to 20 per cent for groceries in Johor. Now, it would make no difference if I pumped petrol and did my grocery shopping in Singapore," he said.
Mr Cheng added that he would cut back on trips to Johor once the new VEP fee kicks in and would also stay there for longer periods so he can do more things.
Student relations officer Rosnah Hussain, 30, shared the same sentiment. Before the toll hikes, she would drive to Johor at least thrice a week to buy groceries, go for massages and pump petrol.
Ms Rosnah added: "After the (toll) hikes, I go (to Johor) only once every two weeks. Once the VEP fee is imposed, I don't think I will go so often, it is too expensive."