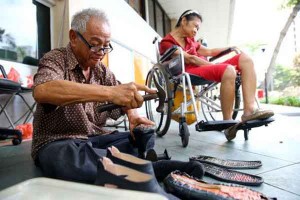 It warms our hearts and respect him when we read about this old cobbler story. And to our readers, please kindly support him at Katong Plaza when you need your shoe mend.
When 70-year-old cobbler Ng Ah Bah's wife of 44 years suffered a stroke 10 months ago, leaving her immobile, he could not bear to leave her alone in their home.
So each day, he takes her in a wheelchair as he leaves his three-room HDB flat at MacPherson Link to go to work. Slowly, painfully, he pushes Madam Yap Guek Neo, 67, to the bus stop to take service No. 135 to Marine Parade. Then he pushes her for another 10 minutes until they reach Katong Plaza, where he sets up shop.
There, Madam Yap sits and watches as her husband as he starts his work for the day.
He refuses to consider sending her to a nursing home. He said in a determined voice: "She is my wife. I am responsible for her and I will take care of her until the day I die."