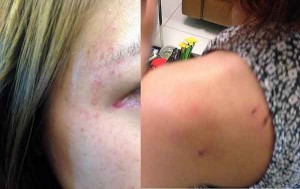 Mel (not her real name) was returning home on Monday at 9:30pm from dinner with her friends, and as usual, took the path from the bus stop to the rear entrance of her condominium. This was the same path she has taken multiple times a week in the four years her family has lived there.
That day was different from others though — mere steps away from the gate, 25-year-old Mei was suddenly attacked by a passing cyclist. She said he knocked her to the ground, straddled her hips and punched her head and face repeatedly while trying to stifle her screams.
Mei, a freelance graphic designer, believes she was the victim of a rape attempt. Because her attacker is still at large, her family has requested that her real name not be published to prevent him from tracking them down.
Mei said she wants to share her experience to warn women that the threat of a physical attack is real, and can happen here in Singapore. In fact, it happened on a short path located right beside the brightly-lit Ayer Rajah Expressway (AYE), that connects a bus stop and one of two back gates of her condominium.
The man, she says, looked to be aged between his late 20s and early 30s. He was about 1.75m tall, dark-skinned and muscular, and had a sharp nose. He was clean shaven, had short, dark hair and was wearing a pale-coloured T-shirt and jeans or dark pants. He also did not smell of alcohol at all.
"In other words, he looked fairly generic," she said. "His clothes were clean, he was not at all ragged. I wasn't scared of him (when we first passed each other)," She said she wasn't dressed provocatively either — in a long-sleeved black pullover with jeans.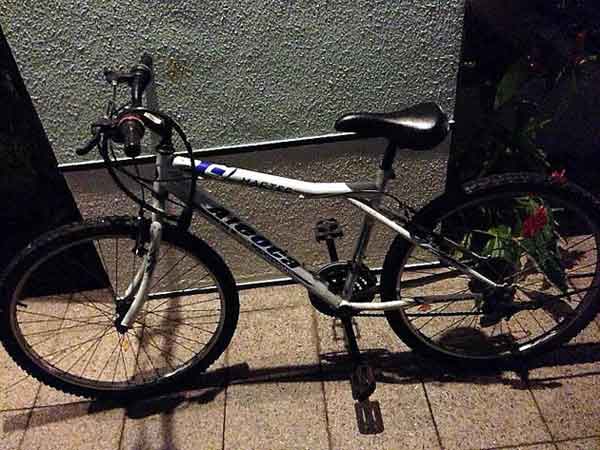 He was cycling towards her after she alighted from a taxi by the road, and they made eye contact briefly as he passed. Mei walked on until she noticed an extra shadow apart from her own, and as she was turning around to see who it was, she received a punch on the right side of her head.
As she went down, he pounced on her, pinning her to the ground, plastering his hand over her nose and mouth as he repeatedly slammed her head into the ground with his other hand so she could not breathe. As she screamed and thrashed around, biting the man's hands and fingers three times as he struggled to flip her facedown, the one thing she knew was that she must keep fighting him.
"All I could do was just be really, really aggressive… to show him that he can't win me, he can't beat me. I'm going to keep fighting and I'm not going to let him have whatever he wants," she said. She is still thankful that the man was unable to get to her clothes — two people who happened to live in the same condominium appeared on the path, and the sight of them drove the man away on foot, leaving his white bicycle parked in the middle of the path.
"At some point I think he was getting desperate because he scratched me across my chest," she said, adding that on the two or three occasions he successfully flipped her face down he would grope her breasts, almost in slow-motion. She struggled to turn herself back over each time, however, even scratching his face whenever she got the chance to.
He spoke just once, shouting, "Shut up, b***h!" as he tried to stifle her screams. His words surprised her, though, as she noted that his accent sounded local.
At the same time, Mei said she was conscious of the fact that the man was trying to drag her into thick bushes nearby. Knowing she would for certain be hidden well there, she strained to move toward the highway instead, where she had a chance of being more visible.
"It was pretty violent. I honestly thought I was going to die; he had his hand on me so long I couldn't breathe, and I was so tired (from the struggle)," she said. "I just kept thinking about my family… the small little things; I just wanted life to go back to normal. Those things helped me fight this jerk off."
After he ran off, she rushed up to the two passersby, who escorted her and carried the man's Aleoca brand bicycle into the condominium grounds. She made calls to her family and the police, who came and took statements from her. She was then brought to the National University Hospital, where she was tested for signs of concussions or internal bleeding, and forensic investigators collected her fingernails and swabbed her face and mouth.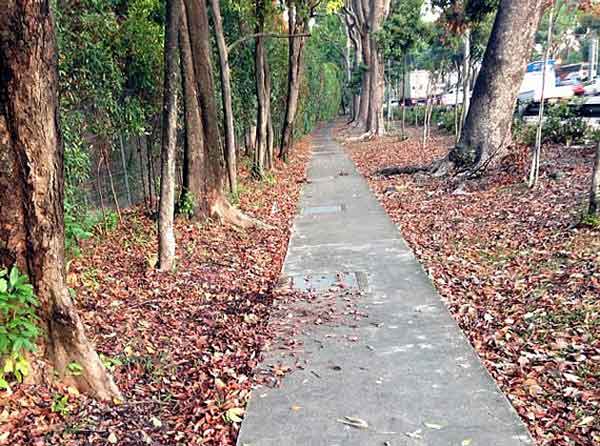 She came away from the scuffle with the right side of her face swollen and red, large bumps on both sides of her head, abrasions on her hands and elbows, bleeding from the lip and more scratches behind her left shoulder, which she discovered only after returning home from the hospital.
Mei attributes her "success" in fighting off her attacker to the accounts of girls who were similarly attacked in the past and shared online.
"I felt like the more I read these things, the less it seemed strange when it actually happened (to me)," she said. "I was able to actually think about scratching his face or yelling, or trying to play dead… and I had decided (when I read those accounts) that I don't want to end up like the dead victims; I want to end up like those success stories, and I want to tell people about it."
She also stresses she is not ashamed about what happened to her — apart from remaining focused on ensuring that justice is served on her attacker, she wants women to be aware of the things they can do if the same should happen to them. "Things like constantly struggling, bending his finger backwards, biting, yelling or scratching flesh off their faces if possible, or at least getting at their skin, or playing dead when you get too tired," she shared, adding that she read these things on Facebook, Reddit and other sites where these accounts were shared.
"I didn't know I could get attacked at 9:30pm outside my condo, I think many women don't know that. And I think they should start knowing that, because even though the pathway was very safe, and I've walked there at 2am before, this can happen," she said.
One of her two older brothers said their family planned to take the case up to their Member of Parliament S Iswaran, in the hopes of getting lights and a security camera placed on the path.
"There's a lot of focus on HDB estates but much less on condominiums; that's why you have these unlit pathways," he added.
Police on Tuesday evening confirmed Mei's report, and have classified it as an outrage of modesty. Investigations are ongoing.