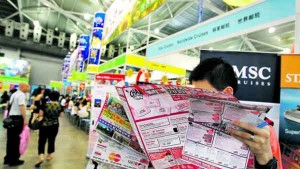 Seem like the agencies pulling out of the fair seem to be a good move. Both fairs will be free next year.
The popular March mega travel fair organised by the National Association of Travel Agents Singapore (NATAS) will be brought forward to between March 6 and 8 next year, said a senior NATAS official in a circular distributed to the association's members and industry colleagues that was obtained by TODAY.
This move comes after 24 travel agencies pulled out of its March fair next year and said they would be running their own rival fair, the Outbound Travel Fair, from March 27 to 29, the same dates that the NATAS fair was initially planned for.
The breakaway agencies were earlier displeased at NATAS' lack of transparency in how it made use of proceeds from its travel fairs and its unwillingness to reduce booth rentals and admission fees.
In the circular, NATAS Acting Chief Executive Officer Patricia Auyeong, wrote: "NATAS members may be aware that we have been continually working towards a single fair in March 2015. Regrettably, despite significant adjustments by NATAS, the other party is proceeding to organise their own fair."
The NATAS travel fair next March will be held in Halls 8 and 9 of the Singapore Expo, wrote Ms Auyeong in the circular. She added that admission to the two travel fairs organised by NATAS next year will be free. Previously, admission fee was S$4.
Ms Auyeong added: "NATAS believes the (revised) dates and venue to be most suitable for exhibitors and consumers alike. It will take place immediately after the 15th day of Chinese New Year and the weekend just before the March School Holidays. This opens the window for last minute school holiday tour bookings."
The working committee of Outbound Travel Fair (OTF) said in a statement that it will "stick to the original plan to stage the OTF at Marina Bay Sands Expo and Convention Centre from 27-29 March 2015 at a central location attracting new market segments (those working in the CBD district) as well as all potential consumers with free admission to the event".
"For the last few years, NATAS had not taken any initiatives to address our issues raised and only in recent weeks do they make a few baby moves when these issues are not new and only did so under the pressure of the Outbound Travel Fair, their sincerity in the long run is in doubt.
"Our only priority now is to ensure that our exhibitors and consumers get the best deal. We will not be distracted in our efforts to accomplish this mission," said the committee's statement.