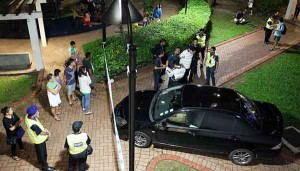 Something good that we felt should share with everyone.
Auxiliary police officer Simon Lawrence knew he had to do something when he spotted a black sedan driving on a pavement towards a Beach Road public playground filled with children and senior citizens.
The 26-year-old lance corporal ran over and frantically flashed his torchlight to get the driver's attention. He was prepared to smash the windshield of the car with his baton to take over control if necessary.
The sedan thankfully rolled to a stop about 200m away from the playground, and Lance Corporal Lawrence, together with fellow Certis Cisco officer, Sergeant Yusaini Selamat, convinced the driver to step out of the car.
The incident occurred on Friday night at about 9pm, while both auxiliary police officers were on patrol in the area. No one was hurt and no property damaged.
"The driver said he drank six cans of beer at a celebration earlier with friends, and pleaded with me to let him go, saying he would pay us whatever it took to let him off," said Sergeant Yusaini, 47.
"He kept saying that it was his mother's birthday the next day and that he wanted to celebrate it with her."
But the officers did not relent.
"If the driver had gone on, he might have hit somebody," said Sergeant Yusaini. "The car should not have been there in the first place – it's a pavement, not a road."
The driver grew increasingly agitated, rocking back and forth and slapping his head, and had to have his hands restrained as the officers feared he would hurt himself.
The Traffic Police were called in and they arrested the 37-year-old for drink driving after a breathalyser test showed he was intoxicated.
Certis Cisco commander, Deputy Assistant Commissioner Lee Chee Chiew, praised his officers for their alertness and swift action.
It is not the first time Sergeant Yusaini has seen a car being driven illegally on pavements in his 24 years as an auxiliary police officer.
He said that cases of drink driving are more likely now that it is the festive season.
Twelve people died as a result of drink-driving incidents from January to October this year, including six individuals who were not behind the wheel. During the same period, 2,588 arrests were made for drink driving.