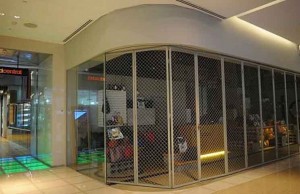 Orchard Gateway has been open for only a year but already some 5 shops' shutters have come down.
Tenants at Orchard Gateway claims that business have been poor, with some businesses reporting no sales on weekdays. Orchard Gateway has two diagonally facing buildings on either side of Orchard Road, 313 @ Somerset and Orchard Central, connected by a glass link bridge and an underpass. Somerset MRT is also just a road away.
Orchard Gateway, a 21-storey building, with six retail floors, also houses a hotel and a library. It is in a prime spot in Somerset. But retailers say the mall's layout, insufficient signs and poor marketing have led to shoppers bypassing the mall or mistaking it as part of Orchard Central despite direct access on either side of Somerset MRT.
Mr Ray Lee, 40, owner of clothing store The Little Flower At The End Of The Rainbow, said: "Signs and posters on the pillars to indicate where the mall is were put up only after we (tenants) requested them. "It is also puzzling that the information counter is on the fourth floor, which does not help lost customers much."
Tenants said the mall's fashion shops are not immediately visible to shoppers entering via the street-level passageway from 313@somerset, resulting in them turning left towards Orchard Central instead.
Public relations and communications officer Jon Lim, 28, said: "I can't differentiate whether I'm at Orchard Gateway or Orchard Central, and I honestly don't know which shops are specific to Gateway or if they are worth going to."
"There are days when I don't sell anything at all," said Mrs Joanna Johnston, 54, the owner of clothing store Anna Rainn. Savills Singapore, the mall's property manager and leasing adviser, said the mall is considering mutual pre-termination agreements with a few tenants as part of an ongoing "tenant-mix review". It added that it will work with the 115 tenants to boost shopper traffic. This will include exhibitions and performances at the mall and joint promotional activities with 313@somerset and Orchard Central.
Location marker signs have also been installed at strategic locations in the three malls to help shoppers navigate, added the spokesman.
Mr Ong Kah Seng, director of property consultancy R'ST Research, said setting up a "geek corner" – or tech shops – or giving special discounts to hotel guests could help the mall. "It will give the mall more vibrant, creative, energising vibes," he said.