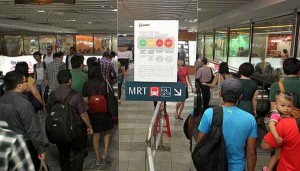 Commuters have given the green light to a new system which tells them how crowded the platforms are at MRT stations.
"Traffic lights" are in place at the entrances of Tanjong Pagar and Ang Mo Kio stations in a trial which began last December.
Passengers The Straits Times spoke to yesterday at lunchtime liked them so much that they want them rolled out at other stations.
If the lights are green, it means the platform is clear and commuters can catch the next train. Amber means a wait for approximately two trains to pass before they can board, while red indicates a crowded platform and "prolonged waiting time".