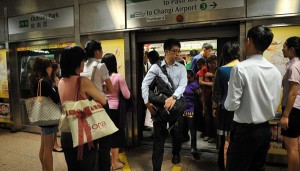 Train services along the East West Line were delayed for nearly 30 minutes, and not an hour as earlier reported, causing massive overcrowding at MRT stations during the morning rush hour on Thursday.
Transport operator SMRT said in a Facebook post that one of its trains on the line was hit by a faulty signal code at 7.05am.
As a result, the train could not operate in full automatic mode and was manually run at 18 kmh for "passenger safety".
SMRT clarified in a subsequent post that train speeds were increased to their normal pace of up to 80kmh at about 7.27am. Crowds were cleared an hour later.