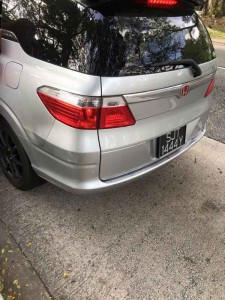 We feel that it is time LTA comes into this and put a stop to all these. It is getting too common these days.
According to a passenger submitted online. On 1st of March 2015, he was with his wife, 3 years old daughter & a newborn son, trying to hail a taxi at beach road area when a particular car stop by.
The man in a car approached me & asked where are they going. After hearing them saying heading to Woodlands, the man immediately told them to aboard. The passenger thought it was some private taxi as when boarded, the driver used some iPhone apps to record the meter fare.
The driver then explain he is from Uber company & told passenger to search the net if they do not believe, after that the driver then told them the meter fare was $3.90 upon boarding & $0.70 per km. The driver claim that they (uber company) is slightly more expensive than normal taxi and asked if they're fine with it.
While the passenger was searching online while on the trip about Uber trying to get to understand how much they will be paying. However, in less than 30 mins of ride, to the passenger shock, he saw the meter has already shoot up to $50++.
They were already on the highway, we assume it is CTE, the passenger told the driver to alight them nearby where he can stop. The driver then stopped at yio chu kang & told passenger the trip fair is $97. It was less than 3 mins after the passenger told driver to find a place to stop, and the meter fare increase $40++
When the passenger confronted the driver on why is the fare so expensive, the driver claimed that he did inform them that it $8/km. As the passenger didn't want to put his wife & kids in any danger, he then agreed to pay it.
We have no idea how true this story is only listening to 1 side of the story, but we do understand that there are a few cases of this happening in Singapore already.
Everyone, please be more careful.