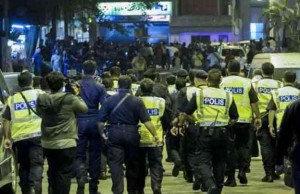 At least three people were injured including a reporter were injured when a group of over 100 men started rioting near Low Yat Plaza in Jalan Bukit Bintang, here after midnight Sunday.
Police has opened two investigation papers under Section 147 Penal Code for rioting and Section 379 Penal Code for rioting and stealing.
Kuala Lumpur Chief Police, Datuk Tajuddin Md Isa said, those detained were from 22 to 25 years old. He said they were detained after they tried to engage in provocative acts during a gathering outside the plaza.
The incident broke out after midnight on Sunday at around 12.05am at an intersection of a hotel — located near the plaza — after a group of rioters started assaulting a victim using a helmet.
The situation turned tense when seven men who had allegedly ran amok at Low Yat Plaza after one of their friend was allegedly cheated by a mobile phone trader on Saturday.
The scenario turned calm after the police arrived at the scene. The crowd dispersed about 12.40am.
Police personnel including the Federal Reserve Unit were closely monitoring the situation until 2am.
Police believed that the riot occurred after a pandemonium broke out following a fight involving seven men at Low Yat Plaza allegedly because one of them was dissatisfied for being accused of stealing a handphone.