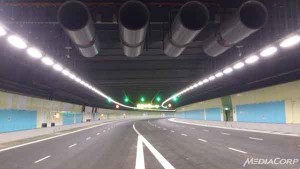 Despite signs being put up and traffic wardens hitting the road to give directions, the changes to roads leading to the Marina Coastal Expressway (MCE) still befuddled some motorists, causing brief bottlenecks on Sunday. MCE, Singapore's newest highway, opened to traffic on Sunday.
The 5km, S$4.3 billion MCE joins the ECP, Kallang-Paya Lebar Expressway (KPE) and AYE. The Land Transport Authority (LTA) acknowledged that traffic was slow along Central Boulevard and Marina Boulevard "as some motorists may not be entirely familiar with how to enter the MCE", but it said there was "smooth-flowing traffic within the MCE tunnel" otherwise.
"As with all changes to the road network, motorists may take some time to be familiar with the changes," said a spokesperson. Some taxi drivers said they chose to take alternative roads rather than the MCE on Sunday, after hearing reports on the radio about traffic jams.
Taxi driver Chin C K, 70, who drove a passenger through Chinatown to get to Resorts World Sentosa, instead of taking the highway, said: "I'm not familiar with the MCE yet." Another cabby, Robert Png, 53, said he took a few wrong turns when he was driving a tourist to the Gardens by the Bay via the highway.
"I expect motorists, even us cabbies, will take some time to get used to the MCE and the new routes, especially since a part of the ECP will be gone," he said. "The Marina area is still developing, with many new, similar-sounding road names like Central Boulevard, Marina Boulevard and Marina Coastal Drive — it's difficult to remember all at one go."
Another motorist, Ms Selina, 46, was not aware of the opening of the MCE and took the route by accident to Kallang area. "Although the signage was clear, it was obvious that other drivers were unsure of where they had to go exactly, especially at the exit towards Fort Road — there were quite a few cars weaving in and out of traffic," she said.
Despite the opening-day hiccups, some motorists said such teething problems were understandable for a new expressway. They also pointed out that the MCE shaves travelling time off some routes.
For example, Mr Chin said the MCE made for a smoother drive as compared to the now-closed stretch of the ECP, which he felt had heavier traffic and more bends. Residents in Sengkang or Hougang will also be able to reach the city more quickly travelling by the KPE, then the MCE. "It's a more direct way for them," he said.
A taxi driver who took a passenger from Toa Payoh to Resorts World Sentosa via the MCE said the journey was shorter by about 10 minutes. Some motorists, however, are already missing the closed stretch of the ECP — because of the view of the city skyline.
Said Ms Roslynda, 40: "It's a very scenic drive, during which you can see the Singapore Flyer, Gardens by the Bay and Marina Bay Sands, but now, all we'll see is a tunnel. I'll miss that view."