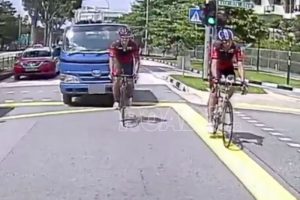 Remember the accident between a cyclist and a lorry driver that happens at Pasir Ris that Singaporean were wondering who should be right or wrong. Here is the video in case you don't remember:
Reported from Yahoo News.
SINGAPORE – A lorry driver who was involved in a highly publicised altercation with a cyclist along Pasir Ris Drive 3 was sentenced to 7 weeks' jail and fined $500 on Tuesday (14 January).
Teo Seng Tiong, who turned 59 on Tuesday, was also banned from driving for two years.
His lawyer, Chia Boon Teck, told the court that his client will be appealing against the sentence and conviction.
Teo had earlier been convicted of causing hurt to cyclist Eric Cheung Hoyu through a rash act and for failing to report the accident to the police within 24 hours.
District Judge (DJ) Chay Yuen Fatt had rejected Teo's defence that he swerved towards the cyclist in order to avoid hitting a taxi on his right, finding that the lorry had deliberately swerved towards Cheung. The interaction was captured in a video that was uploaded online and viewed over 3 million times.
In videos shown in court during Teo's trial, Cheung and a fellow cyclist were seen cycling on the leftmost lane of the two lane road.
While the other cyclist stays mostly to the side of the lane, Cheung rides close to the centre, at one point blocking Teo's blue lorry.
After crossing a junction, Cheung hit the lorry's left wing mirror, causing it to break off and land on the road. Shortly after, the lorry swerves to the left, towards Cheung's bicycle. Cheung is then seen falling off the bicycle and rolling onto the grass verge.
At the time, a red taxi was travelling just to the right of the lorry.
For his role in the incident, British national Cheung was fined $2,800 in April last year.
During his sentencing hearing, the court heard that Teo has a lengthy history of traffic violations as early as 1999. These include speeding, failing to give way to approaching vehicles, careless diving, and failing to conform to the red light signal.
While the prosecution had earlier sought 10 weeks' jail and a three-year disqualification for Teo, DJ Chay was of the view that the prosecution had not given enough consideration to Cheung's provocative acts in blocking Teo and breaking his side mirror.
But Teo's reaction was still disproportionate, noted the judge.