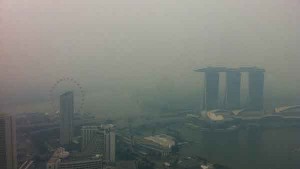 The haze in Singapore climbed into the unhealthy range on Monday as the three-hour Pollutant Standards Index (PSI) hit 111 at 6pm. The PSI reading first crossed the 100 mark at 3pm, when it was recorded at 105, before reaching a peak of 111 at 4pm and 6pm.
According to the National Environment Agency (NEA), PSI readings of 50 and below denote "good" air quality, 51-100 "moderate" and 101-200 "unhealthy" range. The PSI reading has been rising steadily on Monday. At 7am, the PSI was in the moderate range at 56, rising to 100 at 2pm.
The last time the PSI went over 100 was on October 21, 2010, when it hit 106. Business and air transport have so far not been affected. Singapore schools are on holiday.
NEA has advised children, the elderly and those with heart or lung diseases to reduce prolonged or heavy outdoor activities in view of the haze. Others should also limit prolonged or heavy outdoor activities. Malaysia has also been affected by the haze problem, which occurs in the dry season as a result of forest fires in the sprawling Indonesian archipelago, some of them deliberately started to clear land for cultivation.
Haze reached unhealthy levels in Malaysia over the weekend. On Monday, the Malaysian pollutant index showed unhealthy levels of between 102 and 121 in parts of the states of Pahang, Terengganu and Malacca.
In the capital Kuala Lumpur, the sky was also hazy with a reading of 82 at midday. Southeast Asia's haze problem hit its worst level in 1997-1998, causing widespread health problems and costing the regional economy billions of dollars as a result of business and air transport disruptions.
Please all fellows Singaporean and neighbouring countries that is affected by this haze, do drink more water and stay safe.