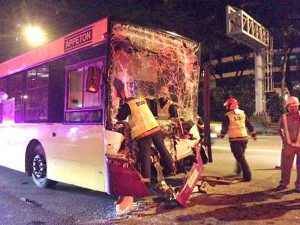 Eight people were rushed to hospital after a chain collision involving an SBS bus, lorry, panel-van and saloon car occurred at East Coast Parkway at about 11pm on Tuesday (Oct 29).
Eyewitnesses told The Straits Times that the collision happened after the bus was seen swerving from the right to left lanes on the expressway.
The bus then reportedly rammed head-on into the back of the lorry, causing it to crash into the van, which in turn hit the Opel saloon in front of it.
The entire front section of the bus was smashed, leaving its driver trapped in his seat until the SCDF's Disaster Assistance and Rescue Team (Dart) managed to extricate him using hydraulic tools.
A medical team from the Singapore General Hospital (SGH) was also activated to assist in the accident.
An SCDF spokesman said they received a call about the incident at about 11.10pm and responded with four ambulances, three support vehicles and two fire engines.
Besides the bus driver, three bus passengers and four workers from the lorry were conveyed to SGH just after midnight.