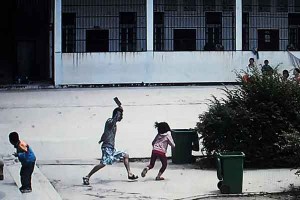 What is happening in this sick person's mind? Slash children in a primary school. A crazed cleaver-wielding man chased a child across a playground in this frenzied attack that left eight children injured at a primary school in China.
One youngster was left in a coma and seven others rushed to hospital as the man rampaged through a school playground.
Local government officials in Macheng said the man rushed into the Wulidun elementary school clutching the meat cleaver and started to attack students for no apparent reason.
Thankfully no one was killed in the attack, but one child is in a critical condition.
Police raced to the school and caught the 35-year-old suspect but his motive remained unclear.
A police spokesman said: "It seems he slashed at them rather than chopping hard, which would have killed most of them instantly.
"The scenes of panic at the school were indescribable. These youngsters had no idea what was going on."
China has seen several violent attacks against children in recent years, including a spate of five incidents in 2010 which killed 17 people – 15 of them children – and wounded more than 80.
Last March, a man killed two relatives and then slashed 11 people, including six children, outside a school in China's commercial hub Shanghai.
Parents flocked to the local emergency hospital where their loved ones were treated.
The attacker faces a multitude of charges and could face the death penalty if found to be of sane mind after a psychological evaluation.