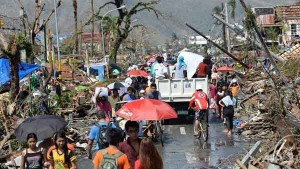 Three Singaporeans who were in the typhoon-devastated city of Tacloban in the Phillippines have not been contactable since the disaster hit on Friday. Their concerned parents are appealing for any assistance or information on their whereabouts.
Eileen Heng, Alyssa Chee and Vanessa Chong were on a one-month volunteering project in Tacloban. They were due to return home next Saturday.
The 23-year-olds are final-year students at Flinders University in Australia. In Tacloban, they were staying with host families and working as volunteer dieticians. The last time their parents heard from them was early morning on Friday – before communication lines were knocked out as the typhoon made landfall.
Ms Chong's mother Lay Sim said: "She called me at 5am. She said, 'Mummy, the typhoon is here. Can you hear the rain and the zinc roof falling down?' "I said, 'do not worry, we just pray'. And then that was it."
Singapore's Foreign Affairs Ministry said it is in contact with the family members of the girls. The Singapore Embassy in Manila is working with the Philippine authorities to ascertain their safety.
Separately, Prime Minister Lee Hsien Loong has sent condolences to Philippine President Benigno Aquino on the devastation and loss of lives caused by the typhoon. In a letter to Mr Aquino, Mr Lee said the Singapore Civil Defence Force has dispatched a team to Tacloban City to assist the United Nations (Office for the Coordination of Humanitarian Activities) rescue efforts there.
An SCDF spokesperson said they sent two info-communications specialists to help establish communication links to facilitate the coordination of relief efforts. The two officers left Singapore on Thursday and arrived in Tacloban the same day.
The Singapore government is also donating S$50,000 through the Singapore Red Cross (SRC) to support relief efforts. SRC is contributing relief supplies worth S$100,000 for typhoon survivors, and is sending a team of volunteers to the Visayas region, including islands of Cebu, Samar and Leyte, to help with the distribution of relief items.
The charity is also appealing for donations. "It is clear that given the scale of destruction by Super Typhoon Haiyan, more help is urgently needed. As we stand in solidarity with the affected communities, we hope the donor community will give generously to relief efforts that we'd be mounting," said SRC Secretary General Benjamin Willia.
As of Singapore Red Cross Facebook page, a donation drive will be launch soon. You can get their updates at their Facebook or their website at Singapore Red Cross