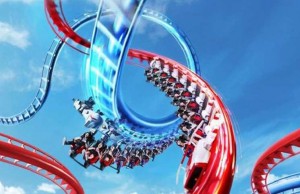 Do you dare to take it again after the seat issue? Now that is the question.
Universal Studios Singapore's Battlestar Galactica: HUMAN vs CYLON will reopen on Wednesday (May 27), Resorts World Sentosa announced in a media release on Monday.
Touted as the world's tallest duelling roller coasters, Resorts World Sentosa said the roller coaster will feature new two-seater ride vehicles.
In November last year, RWS said the new ride vehicles will give riders a "more intimate and personal ride experience", while the tracks of the roller coaster itself remains the same.
The ride has been closed since Jul 21, 2013, a period of almost 22 months. In response to media queries at the time, Universal Studios Singapore said the ride had been closed for an attraction review, and no details were given about the reasons why or how long the review would take.
The ride was also closed a week into the theme park's opening in March 2010, after a seat became "detached" during routine tests. The coaster reopened nine months later.