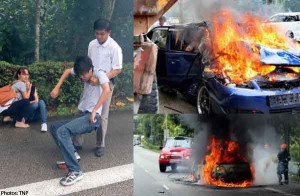 An accident on the Bukit Timah Expressway (BKE) on Friday afternoon left a couple injured and their car on fire. Thankfully, both the driver and passenger were pulled to safety by two motorists before the car exploded into flames, reported the Shin Min Daily News.
Mr Yang, 44, a truck driver, told the paper that he had stopped his lorry by the side of the road as he suspected a tyre had burst. But seconds later, a blue sedan rammed into the rear of the lorry and spun 180 degrees, hitting another car before stopping next to the lorry. Flames started to shoot out of the car bonnet.
Motorist Mr Lim, 53, who is self-employed, also stopped his car by the side of the road to help. "I saw that the driver was unconscious and the woman was frightened and pale," said Mr Yang, speaking to the reporter in Chinese. The car door was damaged from the impact and could not be opened.
Mr Yang then took a hammer and broke the window on the passenger side to rescue the woman. "She asked how her husband was after I pulled her to safety," said Mr Yang. Mr Yang and Mr Lim then tried to help the driver out of the burning car. "We helped to release the driver's seatbelt, but could not open the door as it was wedged against the lorry," said Mr Yang.
A TNP photojournalist who was on the scene after passing by the accident suggested that they try to pull the driver out from the rear passenger door.
The two men eventually managed to pull the driver out from the front seat, and photos showed Mr Lim dragging him to safety by the side of the road. The driver regained consciousness soon after.
According to the Shin Min Daily News, barely a minute after the driver was rescued, there was an explosion and the entire car was engulfed in flames.
SCDF confirmed the accident with AsiaOne. Here is SCDF's statement: SCDF received a call at around 1.20pm. SCDF was alerted to a car fire, resulting from a road traffic accident involving a car and a truck at BKE towards PIE before the Bukit Panjang exit.
Fire was extinguished by SCDF using 1 hosereeel. 2 persons, 1 male Chinese in his 20s and 1 female Chinese in her 20s sustained injuries and were conveyed to NUH in conscious states. The male Chinese complained of left knee, left elbow pains, and chest pains. The female Chinese complained of right elbow pain and sustained abrasions.
Wow… this is rare, usually this only happens in movies.