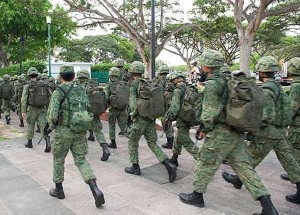 An operationally-ready national serviceman (NSman) died in hospital on Friday after suffering a stroke at his camp 10 days earlier.
Corporal (NS) Heng Wei Sian, 24, an armament specialist technician from the 68th Combat Service Support Battalion, was found lying motionless but conscious in a Kranji Camp III toilet on Dec 10 at about 9.20pm, the Defence Ministry said in a statement on Friday night. He had just returned to the camp after a night off during an in-camp training stint.
Four doctors from Cpl (NS) Heng's unit attended to him at 9.35pm before a Singapore Armed Forces (SAF) ambulance took him to Kranji Camp II medical centre for further resuscitation. The SAF duty doctor and two NS doctors continued to attend to him in the ambulance en route to Khoo Teck Puat Hospital, where he was later taken.
There, it was discovered that Cpl (NS) Heng had suffered a stroke and he underwent an emergency operation. He was warded in the Intensive Care Unit before he died.
Our hearts goes out to the family or relative that is affected. Seem like stroke can affect anyone any age now. Do take care.