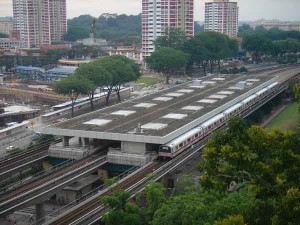 Train service on the North-South MRT line was delayed on Monday morning, with passengers on a southbound train reporting being stuck onboard the train for over 50 minutes.
Posting on its Facebook page at about 9am, SMRT said there was a train service delay on a southbound train from Sembawang to Marina Bay MRT stations at 8.18am.
In a subsequent update, SMRT said all passengers on the faulty train alighted at Ang Mo Kio MRT station at 9.14am.
Tagging onto SMRT's Facebook posts, some commuters wrote about being stuck on board the train for over 50 minutes before they could alight at Ang Mo Kio.
Other commuters wrote of crowded platforms at stations including Ang Mo Kio and Khatib.
In a series of tweets, SMRT reported the progressive restoration of train services.
It also said free public and shuttle buses were provided at affected stations from Woodlands to Bishan.
Shortly before 10am, SMRT said all train services between Sembawang and Marina Bay stations have resumed, and free bus and shuttle services have ceased.
SMRT, be prepared for a fine coming up soon. Then Singaporean, be prepared for another price hike again after this. We feel this is how MRT will work, they fault, they get fined, then increase price. Maybe something new like SMRT fined and the money is distribute to fellows Singaporean???