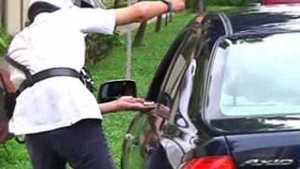 Stricter rules against the use of mobile devices while driving and the introduction of a voluntary course for drivers to erase demerit points from their records, are among the proposals in the Road Traffic (Amendment) Bill 2014, introduced for first reading in Parliament on Monday (Aug 4).
A statement from the Ministry of Home Affairs says the Amendment Bill will strengthen Traffic Police (TP) enforcement powers, as well as "clarify the expected behaviour of vehicle owners and motorists on responsible road use".
The proposed changes are:
PUNISHING ANY USE OF MOBILE DEVICES
It is currently an offence to hold a mobile phone and communicate with another person while driving. The scope of this offence will be broadened to make it an offence to operate any function of a mobile communication device while holding the device and driving. This would apply to tablet computers as well.
LOCAL LICENCES FOR WORK PASS HOLDERS
Work pass holders who need to drive as part of their job must obtain a local driving licence within six months from the date of issuance of work passes.
CORRECTIVE DRIVING COURSES
TP will be able to implement a voluntary corrective training Safe Driving Course. People who have accumulated half or more of their maximum allowable demerit points and meet the prevailing criteria will be eligible, and those who pass the course will have three demerit points removed from their records.
PROVIDING DRIVER PARTICULARS IN EVENT OF OFFENCE
A vehicle owner will now be presumed responsible for selected traffic offences if he fails to provide police with the particulars of the driver who committed the alleged offence.
PROVIDING DRIVER PARTICULARS IN EVENT OF ACCIDENT
Drivers will also be responsible for providing their particulars to the owner of any vehicle or structure that is damaged following an accident. This applies even in situations where there is no other person present.