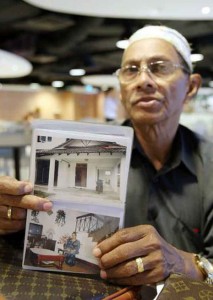 He thought it was the best decision he and his family have ever made.
In 1994, Mr Mohammed Dawood Mohamed Jamaludin (above) bought a four-bedroom, 4,200 sq ft two-storey semi-detached house in Taman Bukit Kempas, Johor Baru, for RM208,000 (S$80,800).
But five years later, the property — located an hour away from Woodlands Checkpoint — was sold without his knowledge.
Now the ownership of that home has changed several times, but Mr Mohammed Dawood is still determined to reclaim the more than RM160,000 (S$62,300) he invested into the property.
The 68-year-old cleaning supervisor has since filed suits in the Malaysian courts to reclaim his investment, but this could be a lost cause as the house is built on land meant for bumiputras (indigenous people).