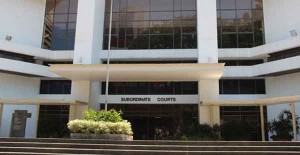 A 34-year-old police officer was charged on Monday at 10am with the double murder at Kovan. Iskandar Rahmat was arrested on July 12 in Johor Bahru. Iskandar Rahmat arrived at the Subordinate Courts accompanied by police officers at 9.40am. He will remanded at Central police division for further investigations and will appear in court on July 22.
On July 10, the body of 67-year-old Tan Boon Sin was found in his home at Hillside Drive. The body of his son, 42-year-old Tan Chee Heong, was dragged under a car for one kilometre from the home, before being dislodged outside Kovan MRT station.
Iskandar was a former investigating officer who had been removed from his duties and was facing disciplinary action for "financial embarrassment" prior to the incident. He was deployed to perform administrative duties and barred from carrying arms. Police said he was also in debt due to personal domestic matters.
All these started on last Wednesday, when police found the bodies of two men, believed to be a Chinese father-and-son pair, in two separate places in the Kovan area. The authorities received a call about the incident at around 3.40pm, and are investigating if the deaths are indeed related.
The body of a man, believed to be in his 40s, was found outside Kovan train station. It was the end point of a trail of blood which started from around 14J Hillside Drive, where the other body of a man in his 70s was found.
Those in the area told Channel NewsAsia that a car was supposedly involved in the incident, and that the man in his 40s was apparently dragged by the vehicle.
"I saw the Traffic Police blocking the road…they said I can't enter this way…I have to make another round. My friend then told me that there was an accident along Hillside Drive…I heard there's a commotion, then a car was reversing," said Muhammad Hafiz, a volunteer at a mosque in Kovan.
Story from Channel News Asia.