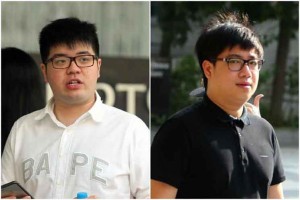 Two friends, both Tan, who raced with each other along a stretch of road in Seletar in the early hours of New Year's Day last year (2015) were jailed, fined and banned from driving for taking part in a competition without a permit and for dangerous driving.
Ryujin Tan, 26, and Gordon Tan Zhi Liang, 27, had each admitted to two charges each of racing and dangerous driving along Seletar Link towards Punggol Way. Two other charges were considered during sentencing.
They were jailed for three weeks, fined $6,600 and banned from driving for 18 months on Friday (July 8).
Deputy Public Prosecutor Selene Yap said that Ryujin, who was driving his aunt's blue Nissan GTR, and Gordon, who was behind the wheel of his mother's red BMW, were in Yishun Dam on New Year's Day last year when they decided to race.
They were flagged off by one of Gordon's friends and switched lanes and made an illegal U-turn in the course of the competition.
After the first race, Ryujin told Gordon that he did not accelerate fully and requested another race, saying he would accelerate fully this time.
Ryujin then drove at a high speed along the extreme right lane of Seletar Link towards Tampines Expressway back to the start point. Both drivers made unauthorised U-turns and repositioned their cars at the start point.
The second race started at 2.12am. After about 800m, both cars made unauthorised U-turns at a gap and continued to race back to the start point.
A traffic police staff sergeant, who was part of a team conducting anti-illegal racing activities, captured Ryujin's car speed on the laser gun over a distance of 191.5m to be going at 146kmh.
The video of the races was played in court on Thursday when the duo pleaded guilty.
Ryujin's lawyer Desmond Tan said in mitigation that no real hazard was caused to anyone that morning, and that the only "spectators" present then were his client's wife and the friends with whom he was hanging out before the race.
He said his client acknowledges that he had made an error in judgment by deciding to compete with the co-accused in a bid to determine who has the faster car.
Gordon's lawyer Mohan Das Naidu said his client was remorseful. Both men wanted to have some fun with their cars and hence decided to compete with each other.
The maximum penalty for taking part in a competition without a permit is six months' jail, a $2,000 fine and a driving ban of at least 12 months.
For dangerous driving, the maximum penalty is a $3,000 fine and 12 months' jail.